Professional photos have been released of this year's Land Run 100 and for the first time a majority of them are available for free. Kudos to Bobby and the team for paying for them. Where else does this happen? Thank you to James Gann, 241 Photography, and Kim Morris Photography for the amazing photos and time and effort you spent making them. I know you enjoy the mud too ;)
You should look through all of the photos that the photographer's took. I want you to notice downtown Stillwater at the starting line and the finish line. While we are out riding our bicycles (or running) and having fun, the crew at District Bicycles and the Land Run staff of volunteers transform 7th street from a place of business to a block party. The effort is tremendous and is felt when you cross that finish line.
To be fair the finish line party is inspired by Land Run's "big brother" up north, the Dirty Kanza. Another gravel event that when you finish you fee like a rock star. Land Run and DK are each different and special. While Dirty Kanza literally seems to have the entire community of Emporia's support and involvement, Land Run has the Wintles. Bobby on the course and at the finish line giving his best emotions (watch him, it's more than just a hug, it's 100% celebration for you) to each finisher. Crystal may stay out of the lime light but I hear she's the one that get's shit done. They are people you could mimic but couldn't reproduce.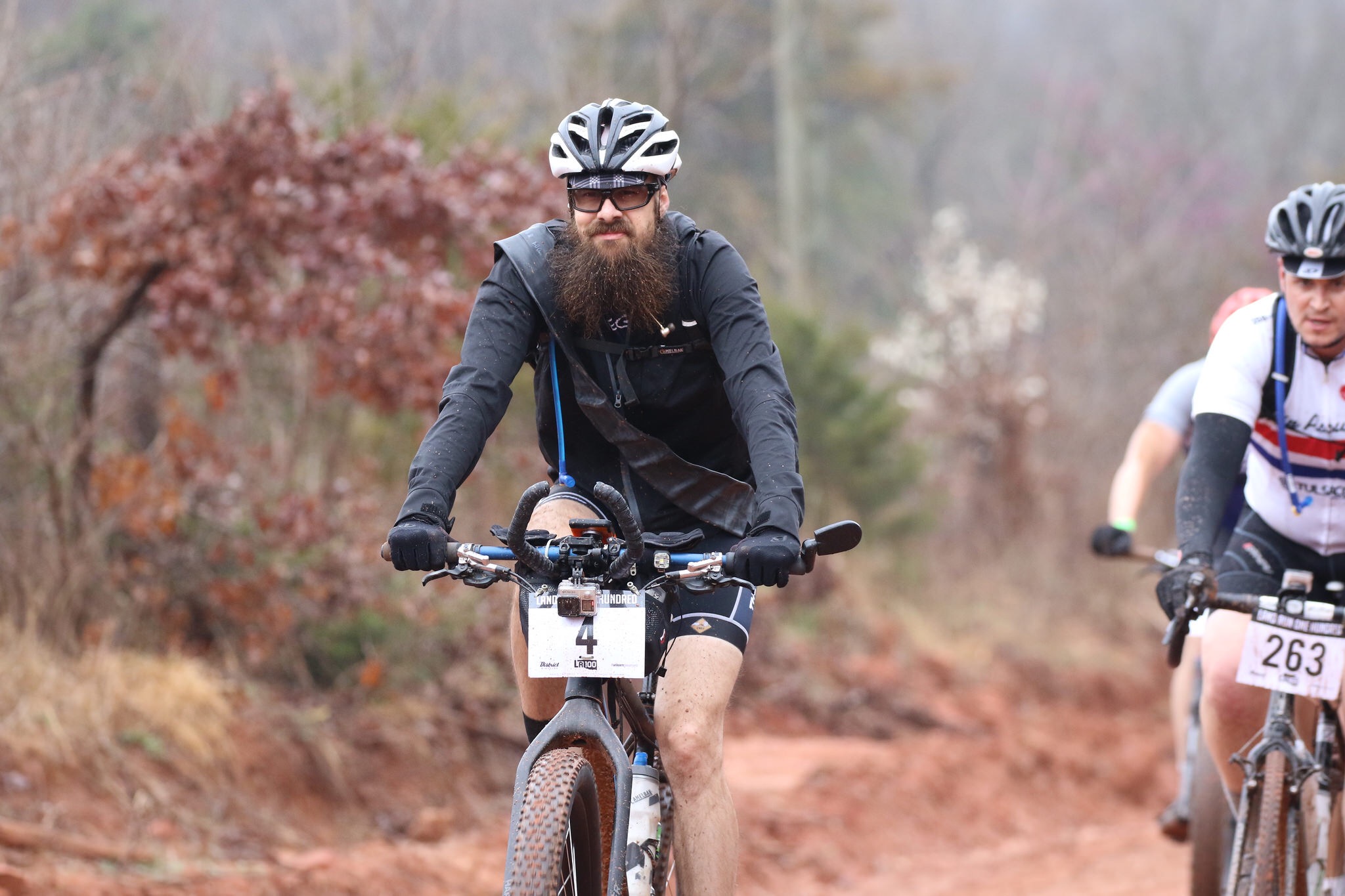 The finish line at Land Run is more than just a signal to the end of your race. It's a barrier you cross that encourages you to find the next barrier you can overcome. Maybe that finish line gives you the courage and desire to sign up for the Dirty Kanza 200. Maybe it gives you hope that you can better yourself and take on the challenges life throws at you. For some it's about winning but for most of us it's about finishing. At Land Run everyone is treated like the winner, not A winner, THE winner. Big difference.
What about those that did their best but were not able to cross the finish line?
I want to tell you about Jacob. I'll try not to bungle his story but he's new to the Stillwater Gravel Grinders. He literally started riding a year ago. Ever year new people come into our group and the Red Dirt Divas. Some are already cyclists but most are brand new to cycling. Whatever leads them to step foot in District Bicycles they walk out encouraged to exceed their goals with a bicycle. They then show up on a fun ride like Jacob. Bobby let him borrow a Krampus to hit 20 miles of gravel. Like Jacob, these people are usually wearing tennis shoes, shorts, t-shirt, and have no idea what lays before them.
Jacob was crushing his training rides leading up to Land Run. Very strong and determined. I got to talk with Bobby a few days before the race as we were putting together my new wheel set about who we are looking forward to see cross that finish line. We were both stoked when we both thought of seeing Jacob cross that finish line. Every year there are new local riders that attempt Land Run and they are the ones that I believe we celebrate the most. Even if they are DFL like our friend Kevin Ehlers this year.
I rode up on Jacob some where around the 25-30 mile mark, his bike upside down and derailleur no longer attached. I did not want to see that. Same goes with Brian Bickell who suffered the same fate. Both of these guys were riding strong and prepared to finish the Land Run 107 mile course.
Going through the photos I came across this one of Jacob at the finish. This photo is what prompted me to write this. Some might look at this image of Jacob with arms crossed and see disappointment in his eyes. I don't know what you were feeling at that moment Jacob but I wanted to celebrate your progress and that you toed the line. Most don't toe the line on a challenge like this. You are on amazing journey and I can't wait to toe the line again with you next year. You got this.
Land Run is more than a race and a finish line. It's about new beginings.